Myles Chykerda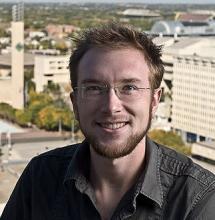 Fax:
310-206-4723
Email
Education
B.A. Honours Anthropology and Classics, Univeristy of Alberta
M.A. Classical Archaeology and Humanities Computing, University of Alberta 
Areas of Interest
Greek realm from the 7th to 4th centuries BC
Profile
Myles Chykerda comes from Edmonton, Canada, where he received a B.A. Honours in Anthropology and Classics (2004) and joint M.A. in classical archaeology and in humanities computing (2010), both from the University of Alberta. Although originally interested in the archaeology of the Roman army, his focus shifted to Greek defensive strategies at both the city and regional level while studying under Dr. Margriet Haagsma. Through his Ph.D. work, he plans to expand these concepts to a broader geographical, material, and temporal range in order to examine the emergence of state organization and regional identity in the Thessalian plains.
Research
Examine the emergence of state organization and regional identity in the Thessalian plains
Selected Publications
From City to Sea: Kastro Kallithea (Thessaly) and its Role in the Defense of Southern Achaia Phthiotis, Canadian Institute in Greece, 2014
Kallithea to Halos: the defense network of the north Othrys mountains, April 14, 2010
Awards
Graduate: University of California Los Angeles Teaching Assistantship
Steinmetz Fund Travel Award; University of California Los Angeles Grad Division Conference Award (presenter)
University of California Los Angeles Cotsen Institute Entrance Scholarship/Stipend, 2011-12
Teaching with Technology Assistantship, 2006-08
Dept. of History and Classics Teaching Assistantship, 2005-06 Undergraduate: Faculty of Arts Academic Excellence Scholarship
University of Alberta Academic Excellence Scholarship; Jason Lang Scholarship (x3)
Advisors